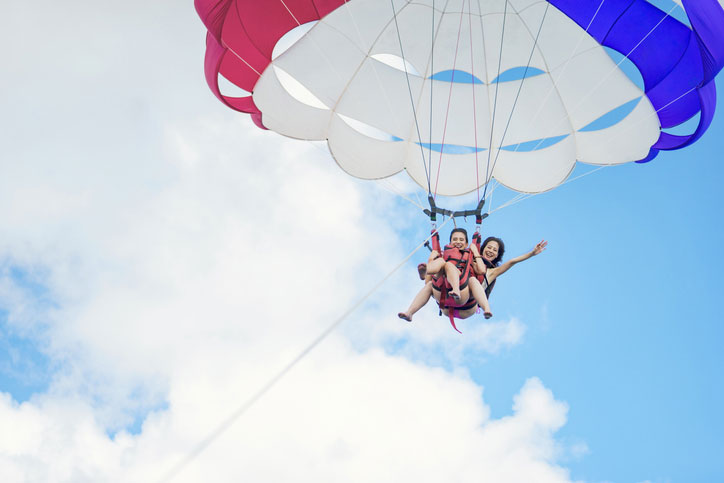 What is Parasailing in Hollywood?
The first thing that most of us will think about when we think of a parachute is skydiving. After all, it's easy to consider this utilitarian device as primarily a life-securing asset. However, parasailing in Hollywood essentially utilizes the same concept for the exact opposite result. Thrill-seekers everywhere rely on parachutes for parasailing during vacations and other sojourns for an exhilarating, yet oddly relaxing experience.
To get airborne, riders attach themselves to a hardness that is then secured to a towing vehicle. In some cases, this is something like a jet ski or other small watercraft, but most times parasailing relies on a fast boat. Once the boat takes off, the rider soars into the sky!
Riders don't even need to worry about steering. Once in the air, they remain along for the ride. The longer the tow rope between the boat and the parasail, the higher they will go, and depending on where the boat travels, the rider can cruise the skies like a beautiful South Florida bird.
To finalize this experience, the boat will pull close to the coastline, slowing down to almost a halt. Then, the rider gently floats down, able to set foot back on the beach and unharness themselves.
Parasailing in Hollywood is an exciting experience. Unfortunately, some people absolve themselves due to fears of heights, safety issues, etc. Nonetheless, parasailing is actually quite relaxing. Our team from Bouyah Watersports wants to share some information that we hope convinces you to try this wonderful activity during your next visit!
Is Parasailing in Hollywood Scary? How About Fun?
It doesn't matter if you reflect a seasoned adventurer, or someone just starting out with indulging their exciting side, parasailing in Hollywood is a great way to spend some time away from the typical day-to-day.
Feelings of nervousness and anxiety remain entirely normal for the uninitiated, before they finally decide to step out of their comfort zone. The good news is that parasailing actually serves as one of the safest (and best!) adrenaline rushes that anyone can enjoy. With parasailing in Hollywood, you gain an experience that you will never forget!
Parasailing offers an above-water viewpoint of gorgeous South Florida, gently launched into the crystal-clear skies. Soar high above colorful Hollywood beaches feeling like you're a bird flying among the clouds.
If you get lucky, you might even take in a surprise experience and observe some of our aquatic wildlife like sea turtles or dolphins. This is the perfect time to get out that GoPro and take a picture of this unique perspective while parasailing in Hollywood.
For anyone that hasn't parasailed, they often inquire about numerous safety concerns. Is parasailing safe? The answer is a resounding, "Yes!" Bouyah Watersports offers the latest in harness, lifejacket, and other safety equipment to ensure any rider remains safe and secure throughout their parasailing journey.
This mitigates any worries and concerns about safety, guaranteeing a fun and secure experience out on the water. We operate our boats only when the weather is clear and bright. Good news is, in South Florida, bad weather is hardly ever an issue.
Try Parasailing in Hollywood from Bouyah Watersports
Once you experience parasailing for the first time, there is no way you can forget the genuinely marvelous views. Parasailing offers calming quiet, in addition to an incomparable feeling of floating through the air.
This sensation of freedom, in addition to an overall feeling of discovery, is something that you cannot capture anywhere else with such little effort. The risk is almost nonexistent, and the reward is substantial! Not to mention, with parasailing in Hollywood, visitors and residents alike can obtain a story to tell family and friends later on.
Even when you feel apprehensive, parasailing is a great way to leave inhibitions behind with a safe and exciting experience. Give parasailing a try and live your life to the fullest with a fun outdoor activity from Bouyah Watersports.
Parasailing is a must-do for any tourist or native Floridian's bucket list. Ensure that you enlist a company that puts safe fun at the forefront, providing licensed ocean masters. Bouyah remains dedicated to providing your adventure with excitement and safety in mind.
To learn more about what our company has to offer, in addition to group rates and other activities for the Hollywood area beyond parasailing, contact our professional and dedicated team today. Make your next vacation to the coastline memorable with parasailing in Hollywood!