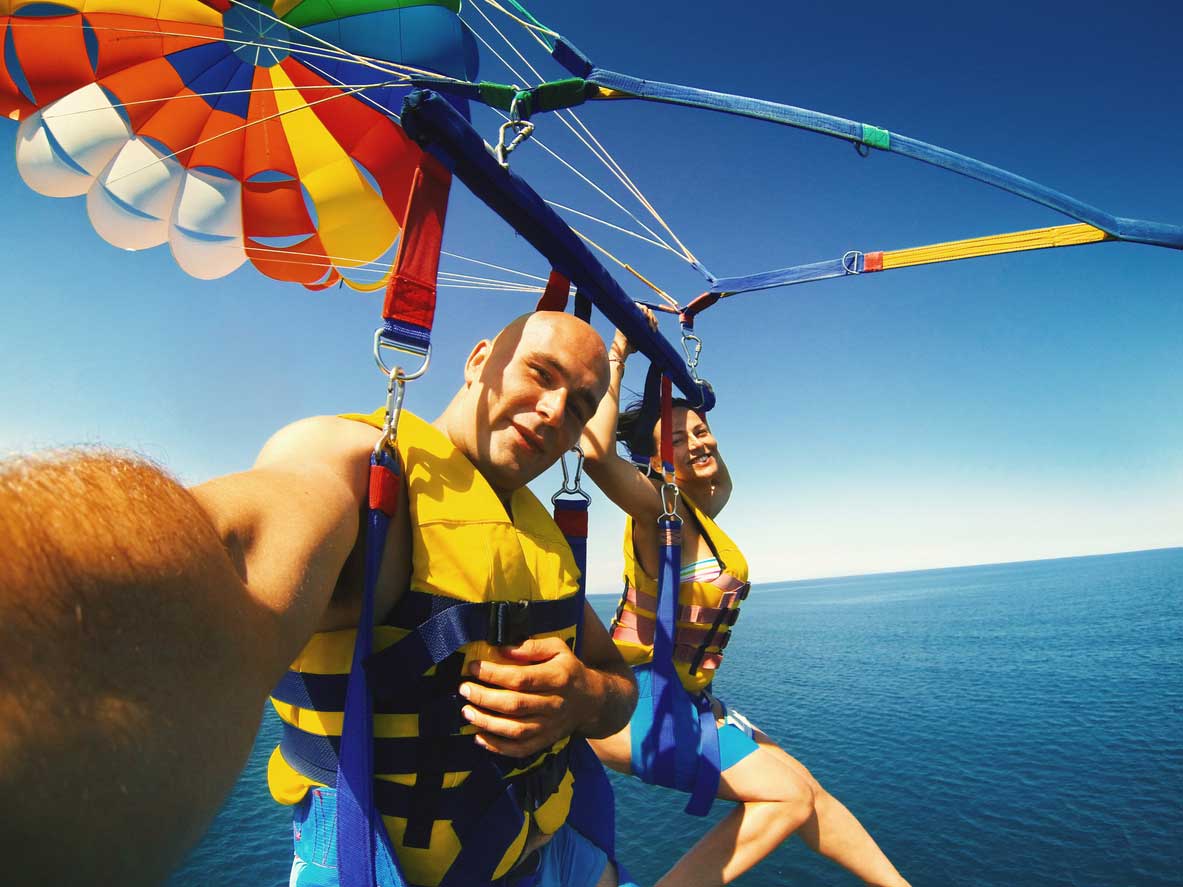 Looking for an Invigorating Coastline Activity? Time to Try Parasailing in Miami Beach!
Taking a look at any popular beach in Florida, you'll notice that the parasailing stations remain very busy all year long. As more and more time goes by, parasailing specialists take people out on the water for a parasailing experience. Yet, most parasailing passengers remain first-timers to this exciting activity.
Our team from Bouyah Watersports often take boatloads of excited vacationers for some high-energy water activities. Nonetheless, sometimes, we get passengers who remain notably nervous regarding parasailing in Miami Beach. They understandably don't feel exactly comfortable strapped to a harness 300 feet above the water.
However, parasailing is one of the most enjoyable watersports in all the world. This can offer you an experience of flying up in the air while also in the middle of the ocean. It truly is a feat worth trying your hand at.
You've probably already seen this popular Florida activity in action. As a thrilling activity where people glide through the air like a bird while being pulled by a boat, parasailing in Miami Beach actually doesn't ask that much effort from participants.
Nevertheless, we understand why first-timers get nervous, and when you parasail with Bouyah Watersports, it remains our job to help you feel as safe and comfortable as possible. For this reason, we want to provide some information that we hope can put your nerves at ease!
What to Know About Parasailing in Miami Beach
Thinking about heading to a warm climate for some boat-related activities? Parasailing is an awesome way to enjoy yourself. Hang from a parachute high above the water with awesome views with parasailing in Miami Beach.
Statistically, parasailing is actually very safe. The activity imparts a .00001 percent chance of a bad outcome, hardly considered "high risk."
Most issues in regards to parasailing occurs should the towline break. For this reason, it is undoubtedly essential to avoid parasailing activities if a towline appears visibly worn, faded, or dirty. The best possible towline for parasailing should look pristine, as operators will change them out frequently.
There are essentially two ways to parasail. This involves either hanging from a harness, or sitting in a gondola. If you feel hesitant about parasailing in Miami Beach from a hanging position, ask your provider if another position like sitting is available.
Nonetheless, if you want to use a harness, you certainly can. However, ensure that any operator provides you with a rundown of the risks, and any other associated safety information.
What we mentioned before about check out towlines applies to all equipment, including the harness. Everything should look as good as new. The operator should also wield a plan, and outline information for what you can do if any equipment fails while parasailing in Miami Beach.
What to Expect When Parasailing in Miami Beach
The time of day that you pick for parasailing is essential.  The weather will remain your biggest concern, and you should ensure that the environment provides ideal conditions for a first experience. If you can book a parasailing time that is earlier in the day, it will like be less windy.
Once you obtain a time slot, you simply must wait to go out. You won't need any special experience, or to do anything special in particular. Nevertheless, we do recommend wearing swim bottoms that fit you well.
Parasailing experts will often dip ridings into the water before bringing them in. You might feel uncomfortable throughout the rest of the day if you choose to wear loose-fitting bottoms.
Parasailing in Miami Beach may seem like a scary activity for inexperienced people. Nonetheless, many that suffer from a fear of heights and other paranoias parasail just fine with minimal issues once they get up in the sky.
After all, far scarier activities exist than parasailing. You may discover a new and invigorating watersport that isn't the least bit frightening. If you start feeling a bit nervous, just focus in on all the beautiful views of the surrounding Miami area!
Parasailing in Miami Beach from Bouyah Watersports
Parasailing in Miami Beach is one of the most popular activities in Florida for vacationers and residents alike. There is nothing more enjoyable or thrilling than soaring through the air and over the open water.
In fact, parasailing can provide you the experience of actually flying. The next time you make your way to Miami Beach, contact Bouyah Watersports to learn more about what parasailing is really like.